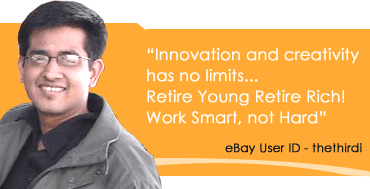 User id: thethirdi
Abhishek, an Aquarian, is born and bought up in the City of Joy, Kolkata. A Power Seller with almost 2000 feedback points, Abhishek loves Internet and online shopping, as it gives him the freedom from drawbacks of traditional business.
This computer graduate has a strong desire to be different. He believes that "innovation and creativity has no limits" and also "Retire Young Retire Rich! Work Smart, not Hard!"
How long have you been using the eBay Site and what do you use it for? How did you first hear about the eBay Site? (i.e., friend, family, search engine, advertisement, etc.)
I had registered myself on eBay (at that time Baazee.com) in the year 2001. That time there was a lot of "hulla-gulla" about this e-commerce site. It was everywhere from TV to newspapers to hoardings to internet. As I didn't want to be left behind, I got myself registered….and forgot about it!
But I kept on getting mails from nisha@baazee.com for two years. One fine day I just thought of exploring the site. I spent around 5 hours going through the pages and was totally hooked.
What attracted me most were two sellers who were selling dresses worn by Bollywood actors/actresses for thousands of rupees! And there were buyers who actually BOUGHT those dresses! This told me that e-commerce was a reality in India. I instantly knew that there was an opportunity for me on the site!
In December 2003, I started selling on the site, and there was no looking back.
What is the main category on the eBay site in which your items are bought or sold? What is the most unique item you have bought or sold on eBay? Which purchase/sale has made you very happy?
I started my online-selling career with some kitchen-related items, and gradually diversified into various other categories. We get orders from all the categories, but maximum orders are related to home & tools, accessories and other utility items. Some unique items that we have are Multi-LED torches, Calculator Pens, FM Pens, unique lighters etc. The sale that makes me really happy is when the buyer places 20-30 orders at one time. This is rare, but we have received such orders a couple of times!
Who is your favorite eBay seller/buyer and why? What has been your best experience at eBay till date?
We have many loyal buyers. They purchase regularly from us through eBay and are happy with our products and service. All these buyers are very special to us.
We constantly learn from the vast experiences of veteran sellers like Cellphonewala and Gifts2gifts.
We have observed that you often spend time on the Community boards, interacting with users and helping other users with their queries. What attracts you towards the community boards? What is your motivation for spending time on the Community boards?
We feel we are a part of a growing community. This eBay community is just like a family. And we think that our experience is much less compared to the combined experience of all the members of the Community Boards. Hence there is a lot of room to share each others' ideas. By doing this, all of us learn and grow faster.
Community boards are also a great way to voice your feelings to the eBay Team.
As you mainly use eBay to sell items, do you have a certain strategy that helps you to sell the items that you really want to sell?
We do not follow any particular strategies to sell on the site. However, we do take care to end the item at times/prices when it is most likely to sell. We are also conscious about our price. Low price always attracts more buyers.
What tips would you give to people out there who are selling or buying their items on the eBay Site?
For sellers, I would suggest them to increase the number of products they are offering. For buyers I suggest them to check the ratings of the sellers before committing to buy. Moreover buyers should commit to buy only if they have all intentions of completing the transaction.
Do you think your feedback rating on the eBay Site has improved your reputation as a buyer or a seller?
The feedback system is very essential to measure the credibility of any buyer or seller. It is the only way by which a potential buyer can understand the reputation of a seller. And from the seller's point of view, it is the only way to find out how genuine is the buyer. We presently have 99.5% positive feedback and this definitely helps us to get more orders
What eBay feature or service would you say has been the most helpful to you and why?
Ebay has got a plethora of beneficial features. One of the features that has helped the most is Selling Manager Pro that allows us to efficiently manage our orders. It contains several modules that let us handle every aspect of our business. It is kind of a control panel of an aircraft. You have all the tools at your disposal! You just need to know how to use them and take off…!
If you mainly use eBay to sell items, have you ever bought anything on eBay?
I sometimes also buy on eBay. My first online purchase was a game CD called Myst III (Exile). I sometimes purchase other unique utility items that catch my fancy.
What advice would you give others about using the Community boards?
I would encourage every one to use the Community Boards more often. This is the only place where the entire family can come together and share their opinions. I request all sellers and buyers to come forward and post their experiences, share knowledge, chill out and have fun.
It is WE who make the community and it is our responsibility to regularly interact with each other to make ebay better and stronger.


---
---