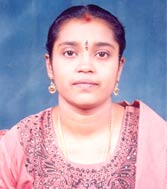 I'm Lalitha from Chennai and my Ebay id is midastouch999 and my Ebay shop name is FortuneGuru Collectibles . I mainly deal with British India silver coins, British India Notes, Ancient India silver coins, Ancient India copper coins, Ancient India gold coins, Mughal silver coins, Mughal gold coins, princely state silver and copper coins of princely states, antiques like ancient Chola pots, manuscripts etc.
I made my first eBay sale on 20 th of Janauary 2008. The first coin which I sold was Pudukottai Amman Cash. When I listed the first coin I was really afraid whether the listing would be correct or wrong. However, after asking my colleagues I was able to list it correctly. Listing coins on eBay gives me great exposure and an opportunity to interact with different customers from various parts of the world.
In Chennai there are many coin dealers and I am proud to be the first woman in this business.
Although there are many online sites which sell different things I am proud to tell everyone that eBay is the most powerful online marketplace which offers different products for all varieties of people.
So far I have sold 2 rare British India gold mohurs, each was sold for Rs.150000/.
Thanks to the eBay team for giving me this wonderful opportunity to share my experiences regarding eBay.
---
---