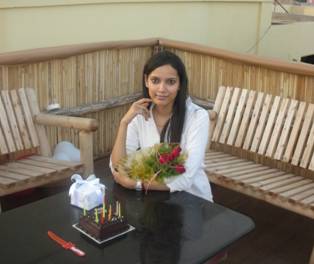 Name: Aastha Jain
Age: 24
Profession: Professional eBay Seller
Category: Home Decor
eBay Id: jaipur_fashions
Aastha is a young cheerful girl from Jaipur and like any other girl loves movies, listens to music, goes shopping and helps her mom with chores. But in her case, the chore is to increase her moms business.
An MBA student and ex-IT professional, Aastha chanced up on working on eBay one day. She was helping her mother, Meenu Jain, an exporter, when she came across an interested buyer who desired to buy a single skirt piece. Since her mother only dealt with bulk queries the buyer suggested eBay. Aastha recollects, "I was intrigued by eBay and explored the portal with the help of eBay's friendly customer support. I realised that this space allows great access to retail buyers across the globe. I started by listing some home décor products like traditional Rajasthani cushion covers and side board runners. The response was encouraging, which prompted us to focus on online selling and since then there has been no looking back."
This venture has become an additional channel for Aastha's business, contributing around 10% of the revenue and also resulted in international leads. eBay also allows Aastha to work and network at the same time.
"In fact on eBay, I have found great friends and I always network with other sellers through the community boards. One of my favorite buyers is Tonia from Switzerland. She saw my product and wanted to buy it. Since she was new to eBay, she didn't know how to complete the transaction and make the payment. I guided her throughout the process step by step through an online chat and ensured that she completed the transaction hassle free. Since then we have become good friends and have regularly exchanged mails, greetings and pictures on several occasions", she smiles.
This is the only platform which allows her to work and at the same time spend quality time with her mother. The fact that Aastha owns her own enterprise gives her immense joy and pleasure.
I am making money on eBay and loving every minute of it. I am my own boss, and I enjoy that. While everybody is rushing into an office being bossed around by other people, I'm enjoying my life!" she signs off.
---
---