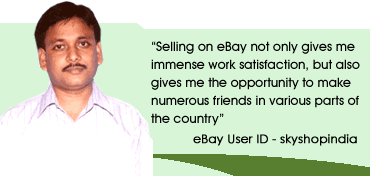 User id:skyshopindia
Achintya, a Computer and Systems expert, is from Kolkata - the City of Joy. His urge to gain practical knowledge attracted him to selling on eBay. Selling on eBay not only gives him immense work satisfaction, but also gives him the opportunity to make numerous friends in various parts of the country.
He believes that "the relationship of a buyer and a seller is more like that of a husband and wife. If there are misunderstandings between the two, the solution is sorting it out mutually and not parting ways."
How long have you been using the eBay Site and what do you use it for? How did you first hear about the eBay Site?
I came across eBay, then Baazee, in a TV advertisement. I logged on to the website, and started shopping. My first purchase was a jewellery piece and there onwards I got addicted to eBay and used to log on almost everyday just to check out the latest deals. Once I casually listed some obsolete computer spares on eBay which were useless to me. I received order for one item at Rs. 2500/- from a guy at Nagpur and I still remember the feeling! It was then that I started dreaming of having my own shop on eBay and becoming a Powerseller. I bought a few items from some vendors in my vicinity, listed them on eBay and there after watched sales pouring in.
What is the main category on the eBay site in which your items are bought or sold? What is the most unique item you have bought or sold on eBay? Which purchase/sale has made you very happy?
"I have sold almost 5000 items in computers, electronics and Health & Beauty categories. Some of my very interesting experiences have been to ship products to remote villages of Bihar and Kerela, where only Indian postal service can reach. I cannot think of any one particular memorable transaction, however, while trading on eBay, I have met a lot of new faces and made many new friends.
Who is your favorite eBay seller/buyer and why? What has been your best experience at eBay till date?
One of the most interesting buyers that I have had is a gentleman by the name of Mr. Srikalyan from Bangalore. He is a Sound Engineer with distinctive knowledge about his field. He has bought number of items from me and we have become friends in due course of time. We keep each other updated about the latest ongoing in the world of technology". Another buyer of mine, Mr. Soumen Sen - a young gentleman from Port Blair, is now a very good friend of mine. We transact a lot and always keep in touch even beyond buying or selling. He always asks for my advice on shopping for new items and is also considering selling on eBay.
We have observed that you often spend time on the Community boards, interacting with users and helping other users with their queries. What attracts you towards the community boards? What is your motivation for spending time on the Community boards?
The eBay community is just like a family, and my experience is much less compared to the combined experience of all the members. Here I can verify my experience with other experienced community members. It is just like discussing ideas with my own family members. By doing this, all of us will learn and grow faster. If we think Community Board is the place where we will lodge complains and eBay will answer our query, then we are totally wrong.
As you mainly use eBay to sell items, do you have a certain strategy that helps you to sell the items that you really want to sell?
My focus is always on Quality, Price and Timing. I offer my items at the most affordable price without compromising on quality. Delivering on time is one aspect that I have very closely followed and believe in. Another thing that I am very particular about is competent customer service and satisfaction, and at times I even bear monetary loss to ensure the same. I do not want a single buyer of mine complaining about any aspect. I put up only those items for sale, which I personally like, are liked by my friends, and which I can source from reputed vendors with quality assurance.
What tips would you give to people out there who are selling or buying their items on the eBay Site?
My suggestion to sellers is "Never compromise with Quality". Secondly always cultivate service attitude towards buyers. Always…"Set the Quality for Others to Follow".
For buyers please check the seller reputation before buying, don't get convinced only by "Item Description and its Price". There is a less chance of dissatisfaction with a reputed seller. In case of any misunderstanding please try to understand the seller's situation and co-operate as far as possible, this will make the deal pleasant.
I always appreciate my buyer Mr. Sumit Saxena from Ludhiana, who patiently waited for almost a month, because the parcel got missing in transit.
Do you think your feedback rating on the eBay Site has improved your reputation as a buyer or a seller?
Feedback rating is most important characteristics of a seller or a buyer. It is the only identity of a seller through which a buyer can get confidence in advance regarding the purchase. Similarly, as a seller, when a buyer with 10 or more positive feedback places an order or bids on my item, I became sure about the fulfillment of purchase and also about the co-operation from the buyer.
What eBay feature or service would you say has been the most helpful to you and why?
eBay has given us a very 'SMART Platform' with lots of advanced features. It depends how we use these features. My favorites are features like "My Message", "Turbo Lister" and "Selling Manager".
If you mainly use eBay to sell items, have you ever bought anything on eBay?
Definitely I buy from eBay with great confidence. As mentioned above I entered eBay as a buyer. The confidence I enjoy while buying on eBay is better than the one I get over a sales counter.
I have purchase number of jewelry items from seller "Surat Diamond Jewelry" and also enjoy on bidding on One Paisa Auction.
What advice would you give others about using the Community boards?
I would like to encourage every one to use the Community Boards more often. Consider this area as a common room for the entire eBay Community. I request all sellers and buyers to come forward and post their experiences and share knowledge. eBay has made the platform for us, so it is our responsibility to make this platform clean and pleasant and when discussing any problem, we should also come up with probable solution also, instead of blaming eBay each time.


---
---