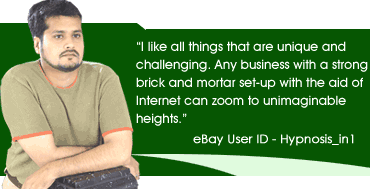 User id: Hypnosis_in1
Hittesh, a Taurean likes all things that are unique and challenging. He thoroughly believes that any business with a strong brick and mortar set-up with the aid of internet can zoom to unimaginable heights.
How long have you been using the eBay Site and what do you use it for? How did you first hear about the eBay Site?
I came to know about eBay, then Baazee, through a TV advertisement. I joined in august 2001 and experienced some stray sales and a few purchases; however, I became completely active and was hooked to the site from 2003 onwards.
What is the main category on the eBay site in which your items are bought or sold? What is the most unique item you have bought or sold on eBay? Which purchase/sale has made you very happy?
The main category that I sell in is Women's Apparel and Saris specifically. Lot of my sales are to international buyers who heave never worn a sari ... and nothing makes me happier than the times when I receive fabulous satisfaction mails from them in return...
Who is your favorite eBay seller/buyer and why? What has been your best experience at eBay till date?
I have a huge list of my favorite buyers. However, amongst a lot of very good experiences that I had, the most special one was when I received a second order from Sangeeta (now a very dear friend) from the USA.
The order was not only accompanied with a huge lot of tips, suggestions and preferences of international buyers, but also a list of personal referrals of her relatives and associates and the best part was that she trusted me to decide the designs to be shipped.
We have observed that you often spend time on the Community boards, interacting with users and helping other users with their queries. What attracts you towards the community boards? What is your motivation for spending time on the Community boards?
But of course, the Community Boards are the best learning platform. Many a times, my complex queries get overcome simply by hanging out on the boards. Reading the views and experiences of many big sellers of this site is always enlightening.
As you mainly use eBay to sell items, do you have a certain strategy that helps you to sell the items that you really want to sell?
I always ensure that I quote honest prices for the goods that are in demand. However, even more important is the personalized attention that I try to give to all my buyers. For example - I keep a record of all the personal requirements of each client and this has resulted in my receiving lot of repeat orders from my customers.
What tips would you give to people out there who are selling or buying their items on the eBay Site?
For sellers I would suggest to always try and maintain the highest standards of TRUST as that is the basic feature of online selling. For buyers I would say look hard before you leap. A few precautions while buying and you can always get some great deals…always. Majority of the seasoned sellers are people for whom online selling is a passion and would never cheat any buyers
Do you think your feedback rating on the eBay Site has improved your reputation as a buyer or a seller?
Ratings definitely helps … and are the most important feature of the site
What eBay feature or service would you say has been the most helpful to you and why?
Accepting online payments is the most helpful and since I started accepting these my sales have multiplied like rabbits
If you mainly use eBay to sell items, have you ever bought anything on eBay?
I had once bought a HAMMOCK and now plan to buy a LAPTOP, after all where else other than ebay can you close a deal relaxing on your hammock
What advice would you give others about using the Community boards?
It is like a ring out there; at no other place can you share or seek advice with experienced fellow sellers


---
---