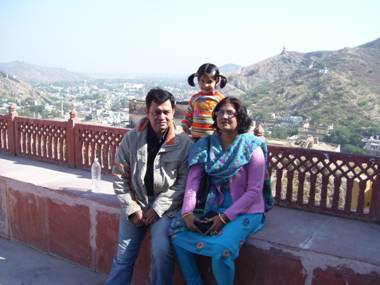 Name: Mrs Preeti Arora
Age: 30
Profession: Self Employed
Education: Masters in computer application (MCA)
Category: Apparel and Jewellery
eBay Id: jwell_mart
DIAMONDS ARE A GIRL'S BEST FRIEND
Preeti is a 30 year old from Delhi and like any woman loves her family dearly and does all she can to care of them. But when she has a spare moment, Preeti takes up her other passion - selling jewellery.
"I've always been totally in love with jewellery - the colour and intricate designs captivate me. But it was not until I started looking at jewellery on the internet that I first hit upon the idea I could use my computer skills and my passion to start a small business. And the best thing about it is all the new friends I've made along the way.
I studied IT at University, but soon after I finished my masters, I got married and was blessed with a lovely baby girl. Instantly, I was in love with my new daughter and, wanted to spend more time with her, so I left my job to take care of my family.
eBay India was not new to me as I have always been an enthusiastic buyer, since its Baazee days. I have always enjoyed a cordial relationship with all the sellers who proved as an example for me. One day while I was browsing through the site for products I realised that even I could start my own online business with the knowledge of my computer skills. I quickly zeroed in on jewellery, as that is where my passion lay.
The response I received in a few months was remarkable and this added to my excitement and motivated me to add to my product range. Over the weekend, I spend time sourcing new innovative & ethnic jewellery from the markets in Delhi itself as it also helped me in understanding the latest trends.
"eBay India has created a platform for small sellers like me to showcase my products all over the world. Additionally the trust eBay carries in the minds of the buyers helps sellers like us generate sales. Today I have made customers & friends all over the world which makes my eBay experience even more enriching".
In the three and a half years since then, my business has grown significantly. Today, I specialise in selling artificial and imitation jewellery on eBay India ( www.eBay.in ) to Indian as well as International buyers. I've shipped my products around the world with most of my orders coming from the USA and Canada. Because of my success I'm planning to expand into the apparel category to diversify my product range.
Overall, it has been a wonderful experience, and my husband has been very supportive throughout. He was the one who encouraged me to start my own business in the first place. He took the time to brief me on the rules and regulations and seller's guidelines, which must be followed in order to start a business on eBay India.
I must confess, however, that my friends in Delhi are a little envious. They keep asking how my business is going - I think they secretly want to quit their day jobs and start their own businesses from home like me. When they look at how I spend time with my family while I work, I think they feel bound and over worked to the long working hours at office.
eBay India really has given me my perfect life. I mean - shopping, selling and making new friends -what more could one ask for?"
---
---