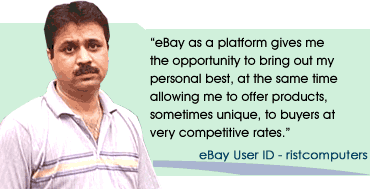 User id: ristcomputers
An Engineer by profession, Rakesh has been associated with IT industry for last 12 years. His passion includes exploring new developments taking place in the IT industry and acquiring them at the earliest. In the past two and half years, Rakesh has sold almost 25,000 products on eBay.
Rakesh likes working with eBay as the platform gives him the opportunity to bring out his personal best, at the same time allowing him to offer products, sometimes unique, to buyers at very competitive rates. However, the BEST thing he likes about eBay is the countless friends that he has made all over the country while trading with them.
How long have you been using the eBay Site and what do you use it for? How did you first hear about the eBay Site? (i.e., friend, family, search engine, advertisement, etc.)
I started selling on ebay (the Baazee.com) in March 2003. The response was good which prompted me to focus on online selling on a full time basis. I guess it was the hype of 1 paisa auctions that prompted us to first see baazee.com
What is the main category on the eBay site in which your items are bought or sold? What is the most unique item you have bought or sold on eBay? Which purchase/sale has made you very happy?
The main category I have explored is IT for selling my product line. I have also done well in Electronics, especially the Home Theatre segment. My best selling experience will be the one when I sold 5 sets of 10,000 Watt PMPO Home Theatre through Baazee. It was a great achievement, because the manufacturing company was not able to sell those Home theatres in local market despite their best efforts. Till date we have sold at least 50 high value Home theatre speaker systems which is the highest so far by any distributor all over India.
Who is your favorite eBay seller/buyer and why? What has been your best experience at eBay till date?
I would like to indulge a little and admit I like RISTCOMPUTERS as the best seller:. Another seller I admire a lot is WESPRO.
We have observed that you often spend time on the Community boards, interacting with users and helping other users with their queries. What attracts you towards the community boards? What is your motivation for spending time on the Community boards?
I do spend a lot of time on the community board. The simple reason has been that this is the easiest way to communicate with the online community. Let me add here that since we started selling on Baazee, Baazee Café was the biggest contribution in the evolution of Baazee to safe Baazee to caring Baazee to eBay…Only those who have been with Baazee and now ebay would understand this. Board interactions were always taken seriously to improve Baazee, and hopefully same will continue on eBay.
As you mainly use eBay to sell items, do you have a certain strategy that helps you to sell the items that you really want to sell?
Yes, but I guess I shouldn't share my business secret..... :. I see to it that the products we sell are described in details and the buyer is at liberty to ask us any question about the product and then purchase it after verifying the credentials of the products from local market or internet.
What tips would you give to people out there who are selling or buying their items on the eBay Site?
Let us all build ebay as a safe and trustworthy online trading platform. We online user should keep in mind while selling or bidding on an item we need to be committed to complete the deal.
Do you think your feedback rating on the eBay Site has improved your reputation as a buyer or a seller?
Yes Certainly!
What eBay feature or service would you say has been the most helpful to you and why?
The most helpful feature in my mind has been 1 Paisa Auctions. Another very helpful feature for me as a seller is the security of payments.
If you mainly use eBay to sell items, have you ever bought anything on eBay?
Yes a few good deals under 1 paisa auction, like I got a digital camera with LCD screen for Rs 499/-.
What advice would you give others about using the Community boards?
Communicate…Let others know what you feel in decent language, But most important, if you are discussing a problem, do suggest some solution too, instead of just blaming it on the trading platform.


---
---