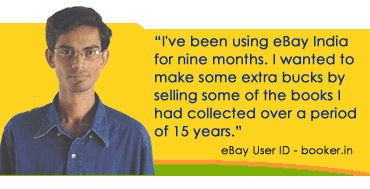 User id: booker.in
Diwakar is an English literature graduate who's been a journalist, author and translator for the past 10 years. He has worked with various respected journals, magazines and portals. He is an avid book collector and is especially proud of his collection of books on World War II. Selling on eBay is one of his favorite activities. Diwakar is also a proud father of a big three month old baby boy. He shares here his experiences on eBay.
How long have you been using the eBay Site and what do you use it for? How did you first hear about the eBay Site?
I've been using eBay India for nine months. I wanted to make some extra bucks by selling some of the books I had collected over a period of 15 years. I first came to know about eBay India, which was Baazee then, from an article I read on the Web.
What is the main category on the eBay site in which your items are bought or sold? What is the most unique item you have bought or sold on eBay? Which purchase/sale has made you very happy?
I sell - and sometimes buy - books on eBay. The most unique item I sold was a British newspaper reporting on a day in World War II. But almost every sale I make is unique. As for buying, a few months back I bought from a fellow Indian eBay seller a book called "Fascism and the Big Business". It was a first edition of a rare, important book which I bought for Rs. 35. If I had sold it, the price would have been around Rs. 500.
Who is your favorite eBay seller/buyer and why? What has been your best experience at eBay till date?
My favourite eBay India seller is "bkakateya" alias Gautam Hemmadi. He sells nice stamps at affordable prices. On eBay.com, I like irisk9 alias Anthony Aliberti. This guy gave me my best experience. I bought from him two books by Erich Maria Remarque, one of my most favourite authors and who wrote the famous 'All Quiet on the Western Front', and I received my books well-packed and in great condition. It's sellers like these who make shopping on eBay risk-free and fun.
We have observed that you often spend time on the Community boards, interacting with users and helping other users with their queries. What attracts you towards the community boards? What is your motivation for spending time on the Community boards?
I like sharing information about reading on the Net and have been doing so for years on various mailing lists and discussion boards. I also feel very good when I find a chance to brag about my familiarity with books! Seriously, it's through such discussion boards that I discovered some great literary and non-literary authors. I'd love to do the same favour to people who are serious about books. It's this sharing principle that motivates me to get on board(s). I don't have much experience as an eBay seller and can't advise people on solutions to their selling problems. Therefore I do what I know - talk about books.
As you mainly use eBay to sell items, do you have a certain strategy that helps you to sell the items that you really want to sell?
I'm not a businessman. So my strategy is simply to present my 'products' well - give as much information about them, give a neat description, and when a buyer makes a mistake, like failing to update his shipping address, due to which I had to send a book twice, grin and bear it instead of being too business-like. They might remember it and come back to you. I think it's a very good idea. And I always give honest feedback.
What tips would you give to people out there who are selling or buying their items on the eBay Site?
I don't have much experience as an eBay seller and can't advise people on solutions to their selling problems. However, to put it short, practicing patience and flexibility is important. Not asking your buyer for (positive) feedback preserves your dignity.
Do you think your feedback rating on the eBay Site has improved your reputation as a buyer or a seller?
Yes, definitely. I always buy from sellers who've got more than 98% positive feedback, whether on eBay.in or on eBay.com. I want to be as trustworthy so that users don't get anxious after making a purchase. I think this is why people buy from me. I've always had good feedback response.
What eBay feature or service would you say has been the most helpful to you and why?
Auto-relisting on Baazee! It saved me a lot of time, which I could use to list new items. I've got a good collection of books for sale and I haven't listed all my books yet due to time constraints. But my aim is to become a seller of great, unique books on eBay. What you see now is only a sample.
If you mainly use eBay to sell items, have you ever bought anything on eBay?
I've bought stamps and currency notes of historical importance, and also some books on eBay India. On eBay.com, I've bought some rare books for my own reading pleasure.
What advice would you give others about using the Community boards?
I'd ask them to visit eBay.com's fabulous discussion boards. It's fun to have lots of people who discuss your favorite topics and give sensible advice on buying/selling issues. They should keep the discussion boards to interact among themselves and use eBay's help system to write to eBay about problems.


---
---