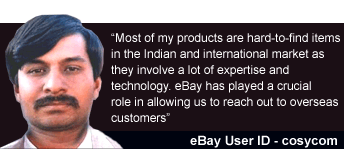 User id: cosycom
How do you take a niche electronic product and become a successful international seller? That's Narinder Singh's story. A proprietor of a small electronics manufacturing unit in Dehradun, Narinder (eBay user ID: cosycom) manufactures and exports electronic goods.
Getting Visibility
"Most of my products are hard-to-find items in the Indian and international market as they involve a lot of expertise and technology. Ours is a small-scale manufacturing unit, and eBay has played a crucial role in allowing us to reach out to overseas customers."
Most of Narinder's customers are from USA, UK and some European countries, where there is growing requirement for these electronic products. In the last one year, he has been successfully using eBay to market his small business to customers around the world.
Wishes Do Come True
"Earlier there was no category specific to my products, but after frequent requests on the Community boards, eBay actually created a LED Displays and Signs category."
Trading on eBay
"But having a specific category to list in is only a small reason for my success. A major factor in attracting customers on eBay is having a good feedback score," says Narinder. He feels that maintaining a positive feedback rating has brought more customers because international buyers can judge a seller's trustworthiness only through feedback comments.
He also advocates the use of the Community boards. "The boards are a great place to share your experiences and get helpful tips


---
---