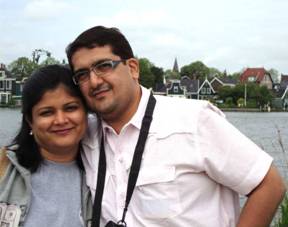 Name: Ms. Monica Chheda
Age: 37 yrs
Profession: eBay Hobbyist (WHY HOBBYIST? SHE MAKES A LIVING OFF IT)
Category: Apparel and Jewellery
eBay Id: aria.jewels
Monica Chheda loves clothes. Five years ago, she thought it was trouble enough trying to squeeze her saris and dresses on to one shelf in the family home. Today, her problems are much grander.
With a little help from eBay, Monica has built a successful business selling clothing fabrics to Indian and international buyers on the Internet. And with her business growing fast, these days she struggles to fit all her bright and beautiful fabrics in one store!
The idea to set up her own business took Monica completely by surprise. Ever since her marriage, the 37-year-old computer graduate earned a small income from tutoring local children in their school studies.
Then one day, a friend of her husband suggested she start selling fabrics on eBay India to buyers making dresses and kurtis. Monica thought it was a fantastic idea. After all, she already had a good amount of knowledge on garments as she used to spend time helping her husband in the Dadar clothing store he used to own.
Monica's husband has been extremely supportive in helping her getting started and has always encouraged her to run a business on the Internet. Without his continued support, this wouldn't have been possible.
She even single-handedly did all her own research, reading up on eBay's rules and regulations and successfully sourcing fabrics and material from Mumbai's markets.
Today, what started out as a small, home-run Internet business has expanded to include six employees and a shiny new office. Every day, Monica and her team are kept busy answering queries, packing and delivering orders, and sourcing new products. She has been such an inspiration to her staff members that some of them have even followed her lead and opened their own online businesses.
Monica ships her products to almost every corner of the globe and, to keep her business fresh, she creates new product ranges each season.
She is very proud of her success. It has given her independence, and a special standing in the community and among her friends.
"Running a business on eBay has been a tremendously enriching experience. It is the perfect platform on which to launch a successful enterprise.
My advice to other women is to always chase your dreams and never be afraid of the challenges you meet along the way," says Monica.
Oh, and Monica's husband no longer has any objections. In fact, he is now a budding eBay entrepreneur himself, selling technology products.
---
---