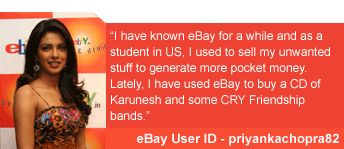 User id: priyankachopra82
Priyanka Chopra, a successful supermodel, an accomplished actress and the style and beauty icon, was awarded as the eBay India Style Diva at ceremony in Mumbai on August 10, 2006. Priyanka is not only the eBay Style Diva but also an eBay member and this month she is in spotlight
How long have you been using the eBay Site and what do you use it for?
I have known eBay for a while and as a student in US, I used to sell my unwanted stuff to generate more pocket money. Lately, I have used eBay to buy a CD of Karunesh and some CRY Friendship bands.
I have an interesting story related to eBay, that I wanted to share with you. I was once visiting my cousins in America. This is after I won Miss World crown and became an actress. My cousins were in high school and college and they had similar concerns like any other teenager – finding that extra pocket money.
They came up with an innovative solution – They made me sign huge posters and CDs and they took pictures of me doing that. They then put it on eBay and made quite a bit of money doing that.
What was experience of being crowned the Style Diva?
As I mentioned earlier, I have known eBay pretty closely and winning the eBay Style Diva contest really means a lot to me. What makes me feel really humbled is the fact that the honour is bestowed not by an individual, but thousands of users all across the country. I'd like to thank eBay and everyone who uses eBay
When I was first told about this competition I was really hesitant and nervous because it's something that completely depends on people who watch your films and people who love you. I'm really flattered of the fact that so many people think of me as a Style Diva. I'd like to thank eBay for that
Something about the charity auction that you have listed on eBay

For anybody one who would like to meet me and spend a day with me on my set… We initiated a charity auction on August 10, 2006. It will go on 10 days and what ever money we raise from that auction will go to Nanhi kali which works for the education of the girl child- a cause I feel very strongly about.
And it will a great time on my set… I promise I'll really look after you, I' promise you'll have a lot of fun and I ensure there are some interesting co-stars at the sets...
Priyanka sure did leave a great impression on the community. 5 lucky users of eBay got to meet her in person. Check out what they say about this experience.


---
---