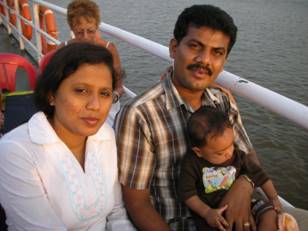 Name: Mrs. Theresa David
Age: 29
Profession: Self Employed
Education: B.B.A
Category: Cameras
eBay Id: ebby-cameraworld
Chennai, a metropolitan city is home to people with a keen eye for Technology and Theresa David is one such person. Completing her education in Business Administration, Theresa started a business in camera sales. She had started sales of digital cameras and handy cams and is now been a managing partner of Ebby Camera World for the past seven years. Theresa sells cameras on eBay India (
www.eBay.in
) under the eBay id ebby-cameraworld
Theresa was introduced to eBay by her friend who encouraged her to set up her own virtual shop on eBay. Theresa decided to use this golden opportunity in order to display her wide range of products on eBay. Theresa shares that she and her husband have been involved in camera sales for over 7 years and own a shop in a famous mall in Chennai where she operates her eBay account as well. Whenever she gets free time while at work, she simultaneously operates her eBay account. Theresa's multi-tasking skills are commendable as she successfully manages the online as well retails sales effectively. But she proudly admits that she receives more response from onlines sales than retail.
Theresa strongly believes that eBay has excellent policies for both sellers & buyers and offers protection to both sides which make buying or selling on eBay a safe and fun-filled experience. Today she enjoys working on eBay which allows her to follow her independent dreams and pursue her interests.
She shares "The journey on eBay India so far has been very enriching and profitable and the response received has also been very good. eBay has given us a platform to set up a successful enterprise which we are truly proud of and hope that we pose as an inspiration to many.
Theresa has been successfully operating her own online business for two years now and has made innumerable friends in India. She proudly confesses that many of her friends envy her and inquire about the well-being of her business. She seems to have started a new trend among her friends and a few who are motivated by her success will soon start trading apparel on eBay.
Theresa sources her products from the markets in Chennai and specializes in all kinds of cameras. She is also planning to expand into the accessories for electronics category.
She adds, "Our motto is to concentrate on quality products and provide 100% customer satisfaction. Everyday we grow & learn with help from the eBay team members and customers."
---
---