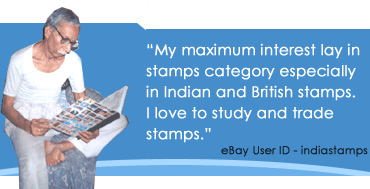 Mr. Sharma
shares his passion for stamps with other enthusiasts.
User id: psharma
Since when are you using eBay, when did you hear of it first?
In the year 2000 I joined the site called bid or buy. After it was purchased by Baazee, I joined Baazee, and now I am on eBay India. As a stamp collector I sometimes visit stamp issues that are held in Head Post Office. In one such issue, one of my friends told me about the site. My son has also been doing business on eBay since quite some time, and he also gave me the idea to start selling on Baazee.
Which categories are you most interested in?
My maximum interest lay in stamps category, especially in Indian and British stamps. I love to study and trade stamps. I am a 79 year old man, and I hardly socialize; most of my time is spent in fiddling with my stamps.
Have you purchased or sold any item on eBay that you are very excited about?
I once got a set of stamps that were related to Indian expedition troops to China. These stamps were issued for use of Indian troops when they went to China in 1911. They are a very rare variety of stamps. In fact last such issue for Indian troops was made when Indian troops went to Gaza strip. Since then no issues of such stamps had been made.
However, on eBay you need to be very careful when you buy, because lots of buyers try to snipe an item at the last moment. If you are not alert, you can end up loosing a good item.
What has been your best eBay experience?
In India there are no stamp shops, mainly because the margins are so small that shops are unviable option. Even abroad, the stamp markets are dying out. In such circumstances, the option that stamp collectors are left with is to attend Post office auctions or Internet auctions. Given the convenience that Internet provides, they are far more viable. eBay auctions give me an opportunity to buy from all over the world. It has also helped me meet some very serious stamp collectors in India, with whom I regularly interact and trade.
In fact some of the customers I get through eBay are so hard core loyalist that sometimes they don't even bother to see picture of the stamp. The trust between us is so high that they buy stamps just based on my description.
What tips would you give to people out there who are selling or buying their items on the eBay Site?
For stamp collectors, my tip will be to gain knowledge in this field. Stamps have so much history hidden in them that studying them is very interesting. A novice stamp collector should always start with collecting and studying most ordinary stamps, instead of going for high value stamps. Most ordinary stamps often have most interesting history.


---
---