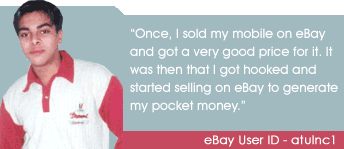 User id: atulnc
Atul Chaudhari is an architecture student and loves to dance. He is passionate about technology and body building. He advises everybody to indulge in some form of workout. He thoroughly believes in the saying "Live life as there is no tomorrow, Hence make the most of it today."
How long have you been using eBay?
I joined eBay (then Baazee) as a buyer about one and half years ago. Once, I sold my mobile on eBay and got a very good price for it. It was then that I got hooked and started selling on eBay to generate my pocket money.
What is the main category of interest on eBay?
The main category in which I list my items is "Mobiles and Accessories" and "Laptops". I have also sold my bike on eBay. It makes me really happy when my buyers show faith in me and are totally satisfied with my service which I offer them.
I also buy quite a lot on eBay, like Mobiles, Laptops, Watches, and many more items. I even bought my bike on eBay!
Who is your favourite eBay member and what is your favourite eBay experience?
All the buyers mean a lot to me, and are special to me, therefore are my favourites.
My best experience on eBay was when I bought an item from Chennai from a seller named Shyam, he sent me the product even before my DD reached his place (item worth Rs.8500),and it was the seller's first eBay transaction. He is the most soft-spoken and caring person that I have met on eBay.
You spend a lot of time on Community Boards. Why is that so?
Ya, I love spending time on Community boards, Community is like my extended family. I love to share my experiences with fellow eBay member and also love to hear from them. I have also learned a lot of things by regularly visiting eBay Community. eBay Pinks (eBay employees who post on the boards) also help us in our queries and lend us great support.
What is your favourite selling strategy on eBay?
My strategy is "quality at very affordable rates". Also, since my buyers mean a lot for me, I try to go the extra mile to make them happy and satisfied.
Any tips for other eBay sellers and buyers?
I request all sellers as well as buyers to be very honest and focussed towards their dealings in eBay and to closely follow eBay Community Values stated in the Community section of eBay.
Do you think your feedback rating on eBay has impacted your reputation?
Of course, any seller/buyer can be identified by the feedback he/she has. My ratings have definitely helped me to boost my sales to a large extent. It also helps to build trust with the buyers as well as sellers before a deal is made.
What is your favourite eBay feature?
Turbo Lister, Advanced Search, My Messages, and Community Boards are some of my favourite eBay tools.
What advice would you give others about using the Community boards?
I advise every eBay member to visit the Community Boards as often as possible. Community Boards are great fun and also a great mine of information!


---
---