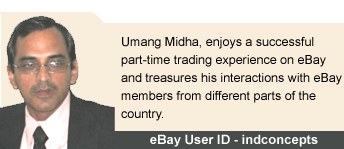 User id: indconcepts
Umang Midha, better known as indconcepts in the Community, has embraced eBay with open arms. Starting off as a curious buyer, he is now among the most successful traders on eBay and an active Community member.
"I have a business implementing turnkey projects for central air cooling for different companies. I have been with eBay since January 2005 and it's been a great association," he says.
One of the best aspects of the eBay marketplace is its ability to bring together people from different places. Umang eagerly vouches for that, and says, "Dealing with people from other locations is a challenging and rewarding experience. One of my favourite memories on eBay is selling a handicraft item to a lady from a remote village in Goa. What made the experience memorable was the effort it took to send the item to her, and the patience she showed in the whole process."
And what features on eBay does he think are the most helpful? "Certainly, the feedback system that tells you how trustworthy and experienced a user is. The higher the score, the better your experience with the user can be. And as a seller, I find the Marketplace Research Tool extremely useful."
Interacting in the Community is something that Umang enjoys a lot. He is an active member and often comes forward with advice and tips for members who post queries on the boards. As he himself puts it, "Community boards are the best and quickest way to learn about trading. You get an opportunity to learn from others' mistakes, and to gain experience by solving others' problems. And best of all, you make friends in the process."
"There's always something happening - tips, criticism, hot topics, contests, workshops, announcements, games, and so much more. Get out there and help others if you can. And when you need help, there'll always be others ready to give you a solution."


---
---