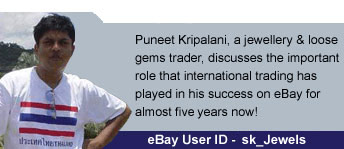 User id: Sk_jewels For many sellers on eBay, international and cross-border trading brings in constant joys, challenges and rewards. eBay's ability to dissolve borders and create a fair trading platform is demonstrated by the success that sellers dealing in international trade enjoy. Puneet Kripalani is a successful eBay trader, dealing in diamond and precious stones jewellery as well as loose gems, who has been an active member for almost three years now.
On Being a Successful International Trader
So what does it take to be a successful international trader on eBay? Puneet feels that the authenticity of products is of utmost importance. "I always ensure that my products match up to my descriptions, so that the buyer is satisfied by their purchase. After all, it is the feedback rating system that forms the backbone of business on eBay. Without positive feedback from my buyers, it would be impossible to run a successful business."
Importance of Authenticity
Puneet clearly relishes the memory of his best and biggest sale on eBay - the sale of a diamond necklace to a buyer in the US for for the whopping amount of Rs 2 lakhs. "Opting for international listing definitely ensures that auctions get better exposure. In fact 75% of my sales are from international buyers," he smiles.
"But to give buyers the confidence in my items, I include clear pictures of the jewellery which give me greater chances of having sales. Also, to keep up with the competitive market on eBay, it is a good idea to keep the price margins low," he explains.
One with the Community
As a regular participant on the Community Boards, Puneet advocates the importance of interacting with other members. "The Community Boards bring together buyers and sellers, allowing them to share their opinions and experiences. People discuss guidelines, errors or improvements and are actually helping in make the place a fair trade platform," he explains.
"The Community does a lot to help buyers and sellers, with tips, advice and resolutions from other members. And it's this interaction between members, the tips and advice exchanged that makes the experience of being on eBay so full of life and fun."


---
---