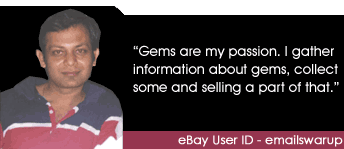 User id: emailswarup
By profession I am Project Engineering Consultant working with a French company based at Lyon, France. Gems are my passion. I gather information about gems, collect some and selling a part of that. Music is another hobby of mine . I like all those with good tune & emotion.
How long have you been using the eBay Site and what do you use it for? How did you first hear about the eBay Site?
I first registered in eBay on early June '05 thru a link in my email but never used that. Then one day in mid-Aug I saw another ad of ebay on another mail and casually searched for some Blue Sapphires. I was astonished about the Price and range and started buying.
What is the main category on the eBay site in which your items are bought or sold? What is the most unique item you have bought or sold on eBay? Which purchase/sale has made you very happy?
I mainly buy and sell gems.
I have grown personal relation with many persons thru eBay, that's why I love it the most. Its also so easy to buy and sell from the comfort of home. That's true for all similar sites but I am more familiar with eBay.
Once I saw a 0 rated seller from Kolkata selling a few gems with bad quality photos. I was in need for 1 extra rating to get my first star (10). So I took some risk and bought one considering that the gem will be fake and I shall loose my money but atleast will get my first star. I opted for a buyer picks up and pays delivery and was astonished to find that it was a real Emerald and the person selling it, Mr. Amitava Raha, is an honest, aged and reputed Architect with nice personality and having similar passion of gems like me. Now I have a very cordial relation with him.
My first major sale in eBay was of a Blue Sapphire purchased by a member from Bangalore. I was very happy. Just to ensure that the buyer is genuine I did some searches on Google and found that he is a director of a reputed multi-national company. I was elated to have dealt with him.
Who is your favorite eBay seller/buyer and why? What has been your best experience at eBay till date?
I love most of my sellers and interact with them. I also love many of my buyers.
My best experience on eBay till now is the day I got a +ve feedback from a buyer from Italy. That was my first foreign transaction of gems and I was tensed about the delivery and export complications. More so because the lady could not write in English and I had understand her Italian letters only by my primary knowledge of French !! I was so happy that she is pleased with the deal. I always feel happy to bring in some foreign currency to my country, whatever meager amount that may be.
We have observed that you often spend time on the Community boards, interacting with users and helping other users with their queries. What attracts you towards the community boards? What is your motivation for spending time on the Community boards?
Earlier I used to work in Project Construction sites – working and interacting with hundreds of people and having a splendid relation with most of them. After I started my own company I earn more but interact with too few people for the job. So I was missing something. Then I found the community board – a scope to interact with others and help others. I gradually got obsessed with that.
As you mainly use eBay to sell items, do you have a certain strategy that helps you to sell the items that you really want to sell?
I try to be honest about the listing and make it more informative. So people searching for information on a particular gem in Google or else where may also find my listing in the searches. I also sell in mixed lot as I always wanted to see somebody selling like that for intending buyers like me.
What tips would you give to people out there who are selling or buying their items on the eBay Site? I think one must honestly describe the items which will reduce the after sales complicacies a lot. Its better not to confuse the buyer with listing titles like Genuine CZ Diamond / Original Shell Pearl. Most people in India do not know CZ is Cubic Zircon or a Shell Pearl is just a Pearl dust coated bead – something very cheap with elegant names.
Do you think your feedback rating on the eBay Site has improved your reputation as a buyer or a seller?
Definitely.
What eBay feature or service would you say has been the most helpful to you and why?
The free listing policy is excellent. When a sale occurs I pay, hence I have nothing to loose. Its excellent for small sellers like me. I am so sorry that the Gallery View and Listing Designer will become chargeable from 1st April '06. With basic knowledge of HTML one can definitely make the listings beautiful without listing designer but sans Gallery view the listings would look dull.
If you mainly use eBay to sell items, have you ever bought anything on eBay?
I have bought more items than I have sold. Except one deal I am happy with the others.
What advice would you give others about using the Community boards?
I find community boards to be marvelous – interacting with someone not known and trying to help him / her, I feel great. I think all should participate or atleast follow the community boards. It definitely helps to let eBay know what the members feel. I was so happy when eBay introduced the buyer verification preference on the request of the members on the board. In contrast to that I was really disheartened to see eBay remaining firm on their decision regarding the new fees structure about Gallery view in-spite of a good many requests on the board to alter that.


---
---