Go to the Trading Assistant directory by clicking on the Trading Assistant Banner at the bottom of the eBay Homepage

Click on the Create / Edit your Profile link.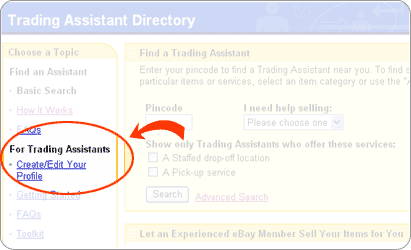 Enter your location and contact information, describe your specialties, fees, payment terms and drop-in hours at your location and type of services.
Click on the check box to accept the terms of the Trading Assistant, then click on the Submit Profile button.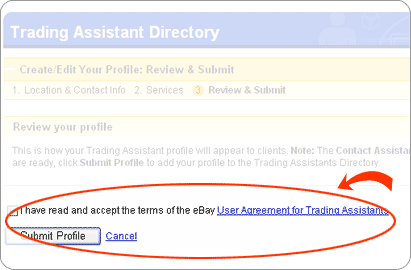 Your Profile will appear in eBay's Trading Assistant Directory.

Did you know?
Registering as a Trading Assistant on eBay is absolutely FREE. You can have multiple trading assistant profiles if you have multiple drop-off locations.
FAQ's on becoming a Trading Assistant.
Note: You must know and practice the eBay policies to keep eBay a safe place to buy and sell.