The term "Item specifics" refers to a set of attributes based on which buyers can search for the products of their choice. Item specifics have been selectively rolled out for a few categories. In the Computers & Peripherals Category, Item specifics can be found for Laptops.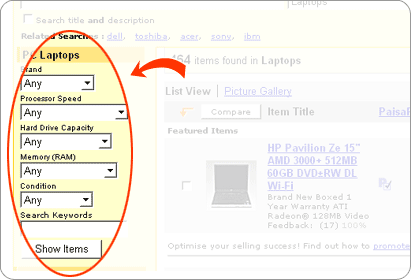 As a seller in this category, you can ensure that your products get included in the Item Specifics search by making sure that each of the attributes (in Laptops these are Brand, Processor Speed, Hard Drive Capacity, RAM and Condition i.e. New, Used or refurbished) are accurately filled in.
Item specifics need to be entered at the time of listing, either through the Sell Your Item form on the site or through Turbo Lister and other tools.
Item specifics provide an easy way for buyers to find what they are looking for and, overall, provide a better buying experience.
Item Specifics for PDAs and Desktops in the Computers & Peripherals Category have been recently launched.
Note: You must know and practice the eBay policies to keep eBay a safe place to buy and sell.
Contact us at techindia@ebay.com