Listing Upgrade
Description
Fees
10-Day Listing
Increase exposure with a longer listing duration!
Rs.25/-
List in 2 Categories
Listing in a second category displays your items to more buyers thus giving you exposure and generating more interest to buy your products.

* You can choose the secondary category while filling in the Sell Your Item form.
2 times the
Feature Fees
(Except Home
page)
International Listing
With an international shipping option, your item will be visible on eBay sites across the world where you choose to ship them.
Rs.15/- to Rs.90/-
Home Page Featured
Home Page Featured lists your item in eBay's special "Featured Items" page. Your listing will also appear on eBay's Home page in the special "Featured Section".
Rs.150/- for single Quantity and Rs.300/- for multiple quantity
Featured Plus!
Featured Plus! prioritises your listing in the List View. Once a buyer clicks on a category page for a particular item, "Featured Plus" listings appear on the top of the List View (default view) page.
Rs.75/-
Gallery Featured
Gallery Featured prioritises your listing in the Gallery View. Once a buyer clicks to view items listed in the Gallery View, the Gallery Featured listings appear on top of all other listings. Also, the images appear larger in size as compared to regular listings in the Gallery View.
Rs.75/-
10-Day Listing
Increase exposure for your items with a longer listing duration! The longer your item is on the
site, more are the chances for buyers to see and bid on your products.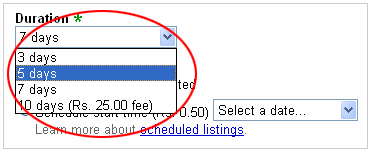 Listing in 2 Categories
Listing in a second category displays your items to more buyers, thus giving you exposure
and generating more interest to buy your products. For example, If you have a PDA phone, you
can list it under the Computers & Peripherals Category and also in the Mobiles Category.
Listing in 2 categories offers more chances and opportunity for buyers to find your item.
International Listing
With an international shipping option, your items will be visible in the Search Results pages that are displayed on eBay sites across the world where you choose to ship them.
You can select the international shipping options and locations from the SYI, Turbo Lister and Selling Manager Pro
Fees

Start Price or Reserve Price
Fee
Single Qty
Rs. 0.01 to Rs. 4000
Rs. 4000.01 and above
Rs. 15
Rs. 30
Multiple Qty
Rs. 0.01 to Rs. 4000
Rs. 4000.01 and above
Rs. 15 X number of items (Max of Rs. 90 / listing)
Rs. 30 X number of items (Max of Rs. 90 / listing)
Home Page Featured
Home Page Featured displays a thumbnail image and the item title of your item on eBay's Home page in the special "Featured Section" on a rotation basis. Get more exposure and more buyers for your item.
Featured Plus!
This is one of the most powerful features. Make your listing appear at the top of the Search
Results and Category Listings page, so that while searching or browsing, buyers see your
products first.Your item also appears in General Listings and Search Results at the top of the
page for greater exposure.
Featured Plus! in Search
When a buyer uses the Search feature to find a product on the site, your listing appears at the
top of all other listings on the Search Results page.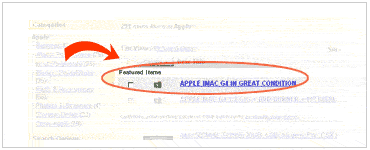 Gallery Featured
Gallery Featured prioritises your listing in the Gallery View. Once a buyer clicks to see items
listed in the Gallery View, items with this feature appear on top of other listings, with images
that are double the size of other gallery images.