If you are selling for the first time eBay will ask you to verify yourself.
Click on "Sell" on the top of any of the eBay pages.

Click on the "start a new listing" tab

Sign into your eBay account.

You will then be asked to verify your identity.


To ensure the safety of the eBay marketplace, first time sellers have to be verified before they can list their first item. This is a one-time verification only and is required only the first time you list an item.
You will be prompted to verify your account either by SMS or Credit Card ( Manual verification)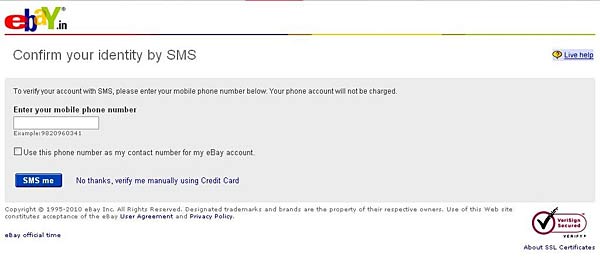 If you wish to verify your account manually through credit card, click on the link "No thanks, verify me manually using Credit Card" and you would be taken to the following page.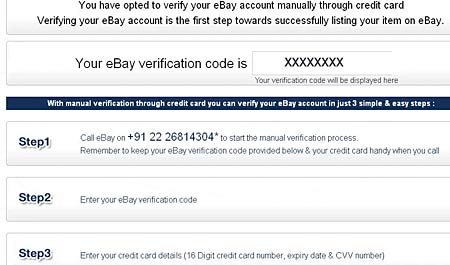 The process of verification typically involves eBay sending you a numeric code through SMS, or manual verification through Credit Card. Once you receive this code, you need to enter it back on the eBay site when asked. You can choose to be verified in one of the following ways:

SMS: Provide a valid mobile phone number and receive your verification code by SMS. This is an instant way to be verified and is available only for users based in India.

Credit card: Verify your eBay account manually through Credit Card. Once you opt for this method, you would be provided with a number where you can call eBay and start the manual verification process. Your eBay account will be verified in just 3 steps
When you receive your verification code, enter the code in the text box provided and your verification will be complete..