Items listed in Shop Inventory format appear only in your Shop and in Shop search. They are lower priced because they do not appear in eBay's Main Search.
At no cost, Shop Inventory listings are an affordable way to make additional inventory accessible to your eBay buyers. And when you select the Good 'Til Cancelled duration you never have to relist again. The listing will automatically renew every 30 days until it is sold out or you end it, saving you precious time!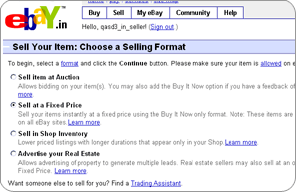 Stock your Shelves! With Shop Inventory you can stock your Shop Shelves with accessory and add-on items that might not be cost-effective for you to list in Fixed Price or Auctions. Shop Inventory listings appear in your Shop alongside your Auction and Fixed Price listings. When buyers visit your Shop, they will be able to see all your listings.