Upcoming changes in Selling flows, Checkout and My PaisaPay
As we prepare for the upcoming launch of PowerShip initiative for making shipping much easier for our sellers, there are a few changes which will be rolling out on ebay.in.

These changes will impact buyers and sellers whether or not they are part of the PowerShip program.
Changes in selling
Permissible shipping service combinationsfor Paisapay and PaisaPay (and EMI) as a payment method are

Local
National
Local and National
Flat-rate
Surface
Local and Surface
National and Surface
Local and National and Surface
Flat-rate and Surface

Apart from that Cash on Delivery and Buyer Picks up and pays can be used with any of the above combinations
Cash on Delivery will be made available only to sellers under the PowerShip program. Post June 06th if you are not a part of PowerShip you will be unable to list or relist/revise your COD listings.
Surface as a New Shipping method will be available on select categories only. Please see here a list of categories:

Categories Eligible for Surface Shipments
Meta
Fitness & Sports
L2
Exercise & Fitness
L3
Cardio Equipment
L3
Weight Training
L3
Yoga
Meta
Kitchen & Home Appliances
L2
Home Appliances
L3
Steamers & Rice Cookers
L3
Vacuum Cleaners
L3
Electric Cookware
L3
Electric Food Processors
L3
Coffee Makers
L3
Water Filters
L3
Mixers
L3
Ovens
L3
Sewing Machine
L2
Kitchen
L3
Pressure Cookers
Meta
Consumer Electronics
L2
LCD, LED & Plasma TVs
L3
LCD TVs
L3
LED TVs
L3
3D LED TVs
L3
Plasma TVs
L3
Color TVs
L2
Home Appliances
L3
Air Conditioners
L3
Air Coolers & Fans
L3
Food Processers
L3
Heater
L3
Inverters
L3
Ironing
L3
Juicer
L3
Microwaves
L3
Mixers & Blenders
L3
Refrigerators
L3
Toasters
L3
Vacuum Cleaners
L3
Washing Machines
L3
Other Home Appliances
L2
Home Theatre & Accessories
L3
DVD Home Theatres Systems
L3
Home Theatre Speakers
L3
Other Home Theatre
L3
Home Theatre Receivers
Meta
Musical Instruments
L2
Guitar
L2
Music Keyboards & Synthesizers
L2
Amplifiers
L2
Recording & Studio Equipment
L2
Brass Instruments
L2
Drums & Percussion
L2
Electronic Equipment
L2
Harmonium
L2
Stringed Instruments
L2
Wind Instruments
L2
Other Instruments
Changes in Checkout
Octroi messaging for buyers from states where Octroi is applicable
Non PowerShip Sellers will have the ability to restrict checkout to buyers in particular states where the LP may have trouble accessing and servicing
Sellers whether or not they are a part of the PowerShip Program will will see a few changes in their My PaisaPay interface as described here
The various sorting filters indicating the transaction status of your orders will now be accessible on the left hand side of the page. The selection tabs include All Sold, Unshipped, Delivery Awaited, Items Delivered & Refunds/Exceptions.
'Print Manifest' tab on the top right of the Transaction Summary Page will a download of information on orders marked as Ready to Ship on a particular Date.
The 'Download' tab on the top right of the Transaction Summary Page lets you print an overview of the transaction Summary Page.
The 'Sort by Payment' Status icon will be removed in the new interface.
The Transaction Search Filters by Date, Order Status, Order Type and Courier will be moved to the bottom left of the Transaction Summary Page.
The Old Interface for Sellers
The New Interface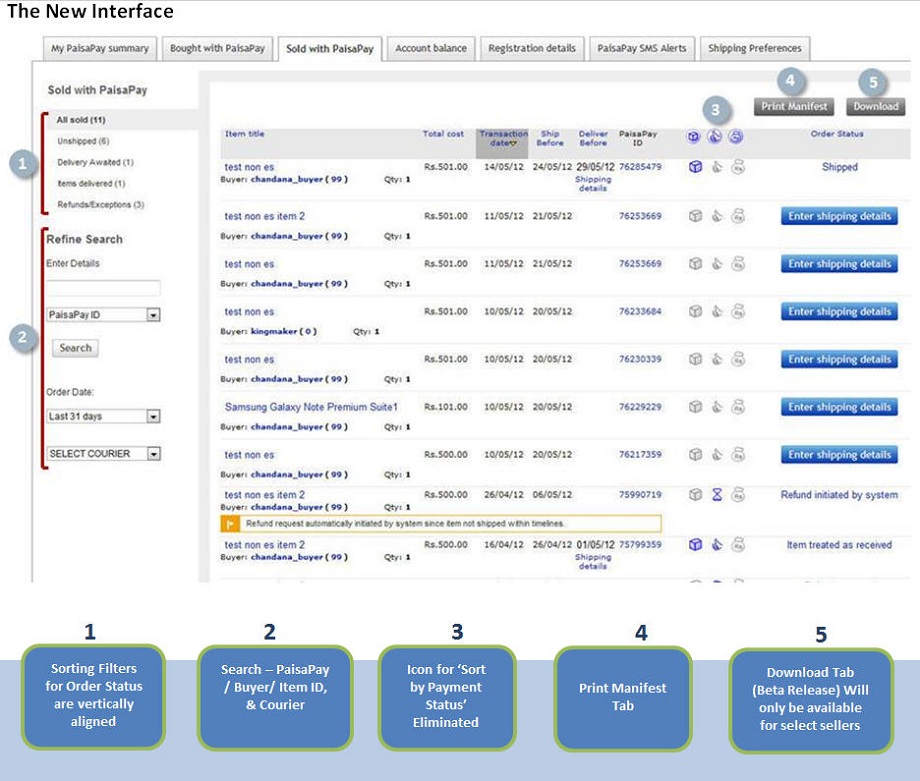 Editing Shipping Preferences
Here, you can set your shipping preferences as follows:
If you wish to combine the Shipping Label along with the Order Statement while marking the order as Ready to Ship, select the 'combined with the order statement' option. However, if you want to print these documents separately, select 'separately from the order statement'.
You can also choose to view your 'Pending' orders in the list of 'All Transactions'.
State Exclusions