Checkout our latest offers!
Frequently Asked Questions
Frequently Asked Questions
How do I link my PAYBACK account?
Here's a video that explains all the steps to link your Payback account.
To start using your PAYBACK points (Redeem/ Earn PAYBACK points) on eBay website, you'll first need to link your PAYBACK account to your eBay account.
Once you've decided on which item to buy, just click on the 'Get started' button on the Review order page



You will see a pop up window prompting you to enter your details. Enter your correct PAYBACK card number here or the linked mobile number and click on 'Continue'.

Please read the 'Terms and Conditions' of the Program and click on 'Accept' to link your PAYBACK account.


On Successful Linkage of Account, you will see this screen:


Who do I call for queries with respect to my PAYBACK accounts or PAYBACK points or PAYBACK PIN?
You may contact PAYBACK customer support for your queries related to your PAYBACK Account, points or pin.
First time user can generate the PIN by clicking on 'Generate first time PIN'.

You can also call up Payback's customer care directly from 10 am to 9 pm @1860-258-5000
I am not registered with PAYBACK; can I still get a PAYBACK PIN?
PAYBACK members have to register their PAYBACK card number (www.payback.in) to access their PAYBACK account. Once you do that, you can generate the first time PIN on the eBay page while placing your order.
How can I get the PAYBACK account number?
The PAYBACK Account number can be viewed post login at www.payback.in. You can also call up PAYBACK's 11/7 (10 am to 9 pm) customer care - 1860-258-5000.
How do I track my PAYBACK Points?
Your available PAYBACK points in your linked PAYBACK account will be shown on the Review your Order page of eBay
However, for details of your PAYBACK Points, SMS PBBAL < space > < last four digits of your PAYBACK card number > to 9212146468 from your registered mobile number (National SMS charges apply).
Can I redeem my PAYBACK points earned with other partners of PAYBACK? How do I redeem them?
Yes. You can redeem your PAYBACK Points while transacting on eBay website no matter where you earn those points
For redeeming your PAYBACK points, once you have decided on which item(s) to buy, click on 'Get started' on the 'Review your order' page. You'll see the points available in your PAYBACK account and then, you can enter the number of points you wish to redeem. Click 'Redeem Now' to proceed after entering your PAYBACK PIN.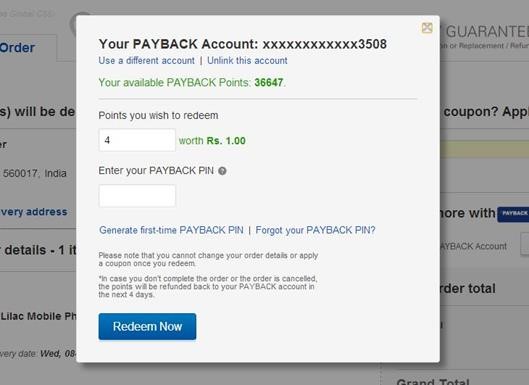 What if I don't have enough points to cover the entire amount of the purchase?
If you do not have enough PAYBACK points to cover the entire amount of your purchase, you can pay the balance amount by using your Debit/Credit card, Net banking and other payment methods accepted on eBay India.
For example: The item is worth Rs.100 and you only have PAYBACK points worth Rs. 25 in your account, then you can pay Rs. 25 with redemption of your PAYBACK points and pay the balance Rs. 75 using any of the afore mentioned payment methods
Can I redeem/earn PAYBACK points on COD (Cash on Delivery) transaction?
Yes, you can redeem/earn PAYBACK points on a COD transaction. The points will only be credited to the users relevant PAYBACK account within 2 working days from the date of Delivery of merchandise.
I did not complete my transaction. Why were my points deducted?
If you select the number of PAYBACK points to be redeemed and proceed with 'Redeem Now', the respective PAYBACK points will be instantly deducted from your linked PAYBACK account. However, if your transaction is incomplete or cancelled, your redeemed PAYBACK Points will be added back to your PAYBACK account within 2 Hours.