My PaisaPay - Overview
My PaisaPay will form the hub for all your PaisaPay transactions. You can access My PaisaPay from within your My eBay or by clicking My PaisaPay on the top right side of the page.
On the left-hand menu within My eBay, click the "My PaisaPay" link to access it. In addition, you can also access it from the "Items I've sold" section in My eBay.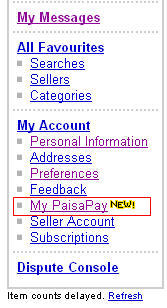 You can use My PaisaPay to:
Track your payments and item status

Receive alerts and reminders about your PaisaPay transactions

Complete key action points like enter shipping details or confirm item receipt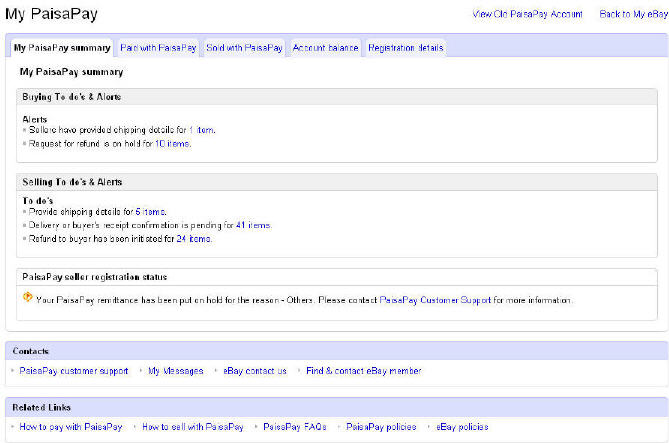 Information on your PaisaPay transactions is organised into the following tabs:
Note: The Sold with PaisaPay, Account balance and Registration details tabs are available only if you have opened a seller account and registered for PaisaPay. Learn more about selling with PaisaPay
You also have a Contacts section, which you can use to contact eBay, PaisaPay and other eBay members. In addition, there is a Related links section which gives you access to important information on PaisaPay processes and policies.
Effective June 6, 2012 My PaisaPay will undergo a makeover for better visibility and accessibility of information. All your Buying and Selling activities will be available on the right side of the page along with new filters to sort your selling activities.