eBay India launches Global EasyBuy - India's gateway to international shopping
Shop from over 18 million products, including your favourite international brands
Mumbai, October 8, 2009
eBay India (www.ebay.in), India's leading eCommerce Marketplace, today announced the launch of Global EasyBuy - The International Online Shopping Destination - which provides Indian shoppers with instant access to an unprecedented 18 million products. Global EasyBuy (www.ebay.in/geb) is aimed at redefining the Indian retail landscape and will provide savvy Indian shoppers access to the world's hottest labels and coolest brands from the comfort of their home. Global EasyBuy takes variety and access to international products to new heights. Mr. Kashyap Vadapalli, Director - Marketing, eBay India unveiled Global EasyBuy at a launch event in Mumbai on October 8, 2009
Global EasyBuy is a pioneering service in the country that enables Indian shoppers to purchase directly from international eBay sites, pay a single price (inclusive of product cost, shipping and any applicable duties) in Indian Rupees and get assured doorstep delivery. It provides access to highly desirable, international brands, hard-to-find gadgets & gizmos and prized toys and many other popular categories. Shoppers are spoilt for choice with access to products from - Prada, Michael Kors, Diane Von Furstenberg, Alexander McQueen. Vera Wang, Marc Jacobs, Juicy Couture, BCBG, Stella McCartney, Victoria's Secret, YSL, Baby Phat and many more in the Clothing, Shoes, Accessories, Health & Beauty categories. Hard-to-find Electronics, Gadgets & Tech Gizmos such as eBook Readers, Apple Laptops & Desktops, Graphic Pen Tablets, Turntables, Weather Devices, Palm Pilots and GPS devices are instantly found. Unique and prized collectibles along with many more surprises in Books; Musical Instruments, Home; Mobile Phones; Camera; Computers and Sporting Gear categories complete the shoppers' delight .
Mr. Kashyap Vadapalli, Director - Marketing, eBay India states, "Motivated by a steady pattern of purchases made by Indian buyers directly from global eBay sites over a period of time, the concept of Global EasyBuy emerged with the aim to make international shopping an uncomplicated, easy, enjoyable experience for shoppers. Nothing short of a retail innovation, Global EasyBuy is a first-time offering that breaks barriers for international online shopping and allows anyone anywhere in India, to shop with ease from an unrivaled range of the biggest international brands whilst enjoying the eBay advantages of trust, safety and price competitiveness."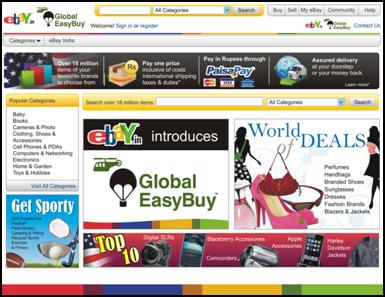 Four easy steps to start buying on Global EasyBuy:
Start Shopping: Log on to www.ebay.in/GEB
Find: Browse through the millions of products on offer or search Global EasyBuy's product categories and brands to find something you like
Buy: Click on Buy It Now
Pay: Pay using PaisaPay (Credit Cards, Debit Cards or Online Bank Transfer)
So log on to www.ebay.in/GEB and start buying today.
About eBay India
eBay India (www.eBay.in), India's leading online marketplace, is India's biggest online trading community where anyone can sell or buy almost anything. eBay India is a trading platform offering auctions, fixed price and classifieds modes of person-to-person trading. There is a wide range of products listed on eBay India in an array of categories including Technology, Lifestyle, Collectibles and Media. eBay India is a 100% subsidiary of eBay Inc.